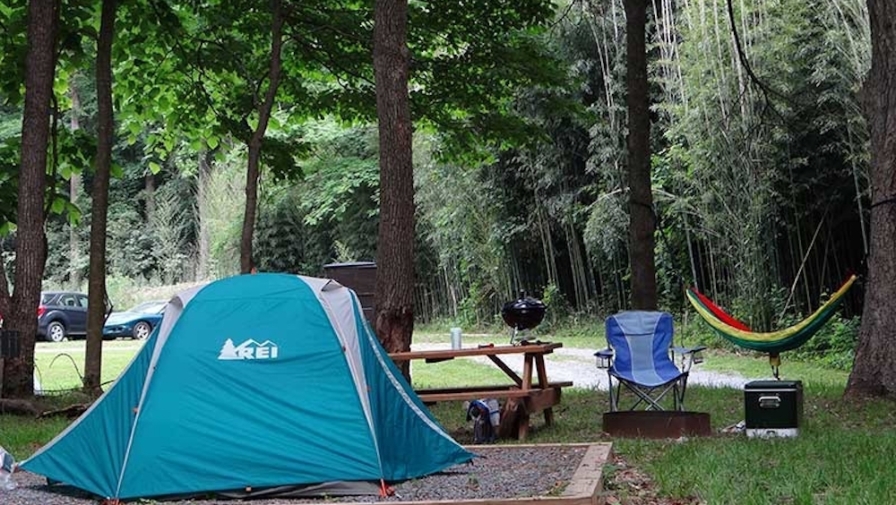 5 Things to Consider When Choosing a Tent for Camping in the Smoky Mountains
Whether you are new to tent camping or ready to replace your existing tent, there are some important features to consider when purchasing a tent! After all, you want to make the most of your experience at the Pigeon River Campground and be perfectly comfortable throughout your stay! Here are the top 5 things to consider when choosing a tent for camping in the Smoky Mountains:
1. Sleeping Capacity
One of the most important things to consider when choosing a tent is the sleeping capacity! If you are spending a family vacation at the Pigeon River Campground, you will naturally want a larger tent than if you were staying solo or as a couple. Choose a model based on your group size and determine if you might need any additional space for hiking gear or other items. The general advice when evaluating tent capacity ratings is to assume a close fit, so if you want more room you should upsize your tent capacity by 1 person. This is particularly important for those who toss and turn at night or simply sleep better with above average elbow room!
2. Season Rating
When you go to purchase your tent, you will notice that they are rated for seasons based on how they perform in specific temperatures. The most popular choice of tents by far are 3 season tents, which are ideal for your stay at our campground in the Smoky Mountains. These lightweight shelters are designed for moderate temperature conditions and normally have plenty of mesh panels to boost air flow. The primary functions of 3 season tents are to keep you dry during rain or light snow, shield you from insects and to provide privacy.
3. Peak Height
If you like to stand up when changing your clothes and enjoy the open air of a high ceiling, you should purchase a tent with a tall peak height. Dome style tents stand tall in the center and offer superior strength, but their walls have more of a slope which causes a slight reduction in the living space. Cabin style tents, on the other hand, feature walls that are nearly vertical to maximize the overall peak height and living space.
4. Tent Doors
While you might not initially think the tent doors are important, you will want to carefully consider the size and number of doors if you are camping with family members or friends. If you have multiple doors, this helps you to avoid climbing over fellow campers for those midnight bathroom breaks! You should also try out each of the doors to determine how easy or noisy they are to zip open and shut.
5. Tent Poles
The pole structure of a tent really helps to determine how easy or difficult it will be to set up, so look for tents with fewer poles for a faster setup. You don't want to spend hours setting up your tent at our campground in the Smoky Mountains, so an easy setup allows you to start enjoying your vacation much sooner! When browsing tent options, also keep in mind that it is easier to attach poles to clips rather than threading them through long pole sleeves.
Want to know more about tent camping with us? Check out these things you'll love about tent camping in the Smokies!
Check out all of the information about our campground in the Smoky Mountains today to try out your new tent and enjoy sleeping under the stars! We hope to see you soon at the Pigeon River Campground!