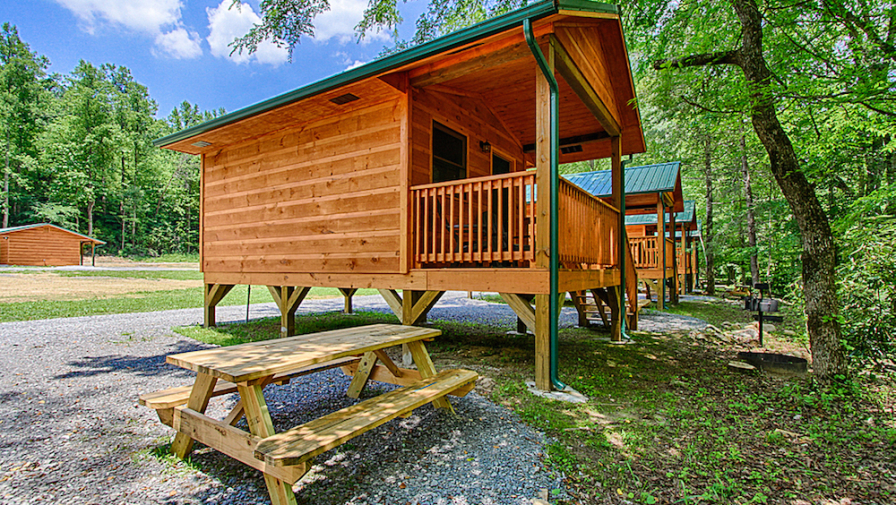 5 Reasons Why Our Smoky Mountain Campground is Great for Groups
If you want to do something a little less traditional and a little more adventurous on your group vacation, you should stay at one of our campsites! With all the best amenities and countless ways to have fun, there's no better option! To help you plan for your trip, here are 5 reasons why our Smoky Mountain campground is a perfect choice.
1. Several Types of Campsites
You and your group don't have to stay in the same type of site to be near each other. Our Smoky Mountain campground offers several different options so that you can all get the experience you're looking for while still being close at hand! Whether you're bringing the RV, wanting the traditional tent camping experience, or a little more luxury in a camping cabin, you can have it all here!
2. General Store for All Your Camping Needs
When you go camping with a group, chances are there will always be at least one person who forgot to bring something. However, getting what you need for your camping trip is easy when you stop by our general store! From camping essentials to something as simple as a snack or drink for your hike, you'll find everything you're looking for here.
3. Great Campground Amenities
Our campground offers a variety of activities like volleyball, horseshoes, and cornhole for you and your group's enjoyment. If you visit during the warmer months, you can beat the heat with a trip to our swimming pool. Around it, you'll find tables and chairs covered by umbrellas, lounge chairs, and a large tanning deck! As dinnertime approaches, you can prepare a delicious meal on the outdoor grill at your campsite. Afterward, you and your friends or family can grab some firewood and gather around a fire pit to roast some marshmallows and maybe even tell a few ghost stories!
4. Fun Things to Do Nearby
When you stay at our Smoky Mountain campground, you'll be just a short drive from all the best places to go white water rafting, ziplining, and horseback riding. Our campsites are also conveniently located near the Great Smoky Mountains National Park, and the Cherokee National Forest. You and your group will have a fantastic time exploring all that the surrounding areas have to offer. Just remember to bring your camera or phone with you to capture all your special moments together!
5. Ways to Save
One of the best things about camping in the Smokies is that it's extremely affordable! In addition to our reasonable rates, we also offer opportunities to save on our specials and packages page. When you stay with us, you and your group can save on accommodations and spend the extra money in your budget on tons of fun activities! Find out more about taking advantage of our Smoky Mountain campground specials!
As you can tell, there are plenty of things for your group to love about our campground! Be sure to check out all of our Smoky Mountain campground sites to find the best spot for all of you to stay!