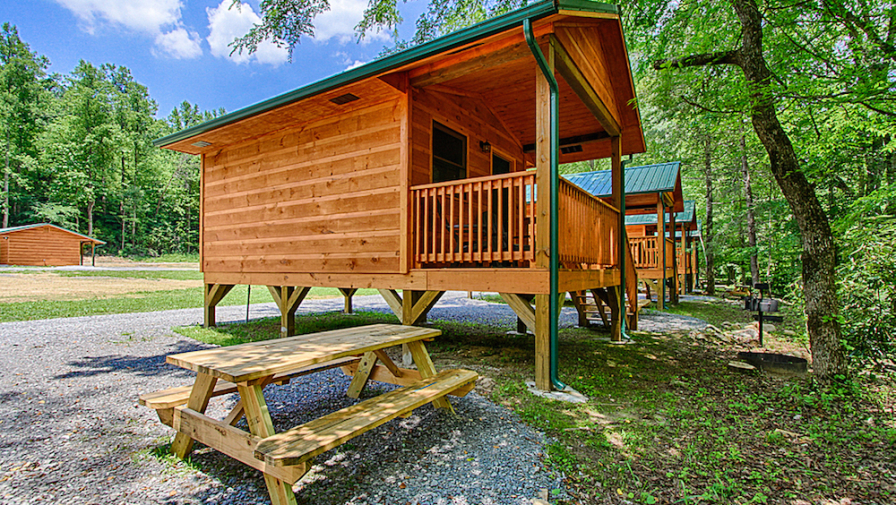 5 Advantages of Vacationing at Smoky Mountain Camping Cabins
Here at Pigeon River Campground, we offer a variety of ways for guests to enjoy spending some time in the great outdoors. In addition to tent campsites and RV campsites, we have six excellent Smoky Mountain camping cabins that are available to rent. Located right on the river, our cabins are the perfect place for a family getaway in East Tennessee. Read on to learn about the top five advantages of camping at a cabin:
1. A Roof Over Your Head
Some people absolutely love to camp in a tent or sleep under the stars. However, we realize that this isn't for everyone. If the idea of sleeping out in the open doesn't appeal to you, you will enjoy staying at one of our cabins. Having a roof over your head means that you won't have to worry about a surprise thunderstorm or a particularly windy evening. Being immune from bad weather is a huge perk, especially if you're not in a position to reschedule your trip.
2. A Real Bed
Sleeping bags can be nice and cozy, but for some folks, there is no substitute for a real bed. All of our Smoky Mountain camping cabins come with one double bed and three twin beds, allowing up to five guests to stay at one property. Getting a good night's sleep on vacation is important, because you will need lots of energy for hiking, white water rafting, ziplining, or one of the other great activities in the area!
3. Air Conditioning and Heat
Depending on the time of year, the Smokies can either be a bit chilly or a bit too warm at night. When you stay at one of our cabins, you can crank up the heat or the AC until the temperature is just right.
4. Refrigerator and Microwave
Preparing dinner is a snap when you stay at one of our camping cabins. You can swing by a local grocery on the way to Pigeon River Campground and store all of the ingredients in your cabin's refrigerator. When it's time to eat, you can make use of your microwave or head outside to fire up the charcoal grill. Guests will also enjoy access to a fire pit, so you can go ahead and add s'mores to the dessert menu!  
5. The Best of Both Worlds
Staying at one of our cabins lets you enjoy the best of both worlds. Guests will still have an authentic camping experience in the Smokies, but they will also have all of the comforts of home at their fingertips. Additionally, guests at our campsite can take advantage of our incredible location right on the banks of the Pigeon River, steps away from the white water rafting available at Smoky Mountain Outdoors, and only 40 minutes from all of the fun in downtown Gatlinburg.
To learn more about staying at Pigeon River Campground, check out our Smoky Mountain camping cabins page. If you would like help planning your camping trip, don't hesitate to give our friendly staff a call today!