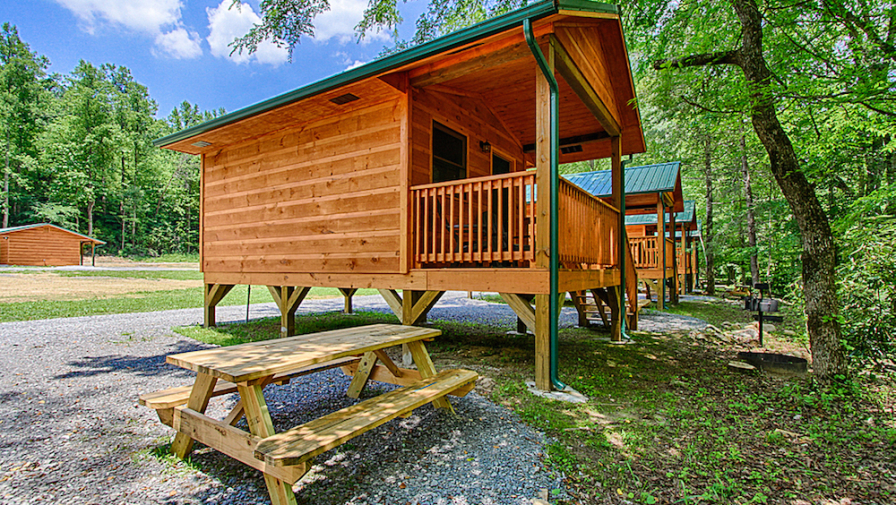 5 Reasons Why Smoky Mountain Cabins Are Perfect for First Time Campers
If you have always wanted to experience camping in the Smokies but you're not quite ready to try a tent, our camping cabins make a fantastic alternative! These cabins offer lots of extra comforts and amenities to enhance your stay, including a refrigerator, microwave, climate control, and more! The only things that you need to bring along are some sheets and linens to place over the comfortable bunk beds! Here are the top 5 reasons why our Smoky Mountain cabins are perfect for first-time campers:
1. No Set Up Involved
When staying in our Smoky Mountain cabins, you don't have to worry about the time and effort necessary to set up a tent! Once checking into your cabin rental, you can get right to all of the exciting outdoor activities that we have to offer. You'll definitely want to take advantage of our recreational equipment to play volleyball, cornhole, or horseshoes. If you're lucky enough to be staying with us during the warm summer months, be sure to also take a dip in the refreshing outdoor pool!
2. Full Temperature Control
Another reason why our camping cabins are perfect for first-time campers is that you are in full control of the temperature setting! These cabins offer both heat and air conditioning, as well as a ceiling fan so that you can be comfortable at all times! Therefore, you can count on a solid night of sleep to rest up for the next day's activities. Of course, you can always open the cabin windows too when you want to enjoy the fresh mountain air.
3. Traditional Campsite Amenities
Although our Smoky Mountain cabins offer an upgrade from tent camping, you won't miss out on all of the traditional campsite amenities that make camping so fun! Right outside of your cabin, you'll find a picnic table and charcoal grill so that you can enjoy a delicious meal among the great outdoors! There is also a fire pit available so that you can kick back under the stars, roast s'mores, and maybe share a couple of spooky ghost stories.
4. Easy to Store and Prepare Food
Since our Smoky Mountain cabins feature a microwave and refrigerator, you don't have to worry about the headache of keeping a cooler stocked with ice! Just place all of your favorite beverages in the refrigerator so that you'll always have a cold drink available, and keep all your perishable food fresh! The microwave also comes in handy for preparing everything from quick meals to snacks! If you happen to forget any food or supplies when heading to the Smokies, take advantage of our convenient on-site general store.
5. Access to All Campground Facilities
Guests staying at our camping cabins have access to all our campground facilities, including a bath house, laundry room, and wireless Internet access! You can also enjoy fishing in the summer as you'll find plenty of trout and smallmouth bass fish along the river banks! After spending just a night or two at our campground, you'll wonder why it took you so long to discover the joys of camping!
Check out our Smoky Mountain cabins today to plan your first camping adventure in the Smokies! We look forward to welcoming you to our beautiful campground!