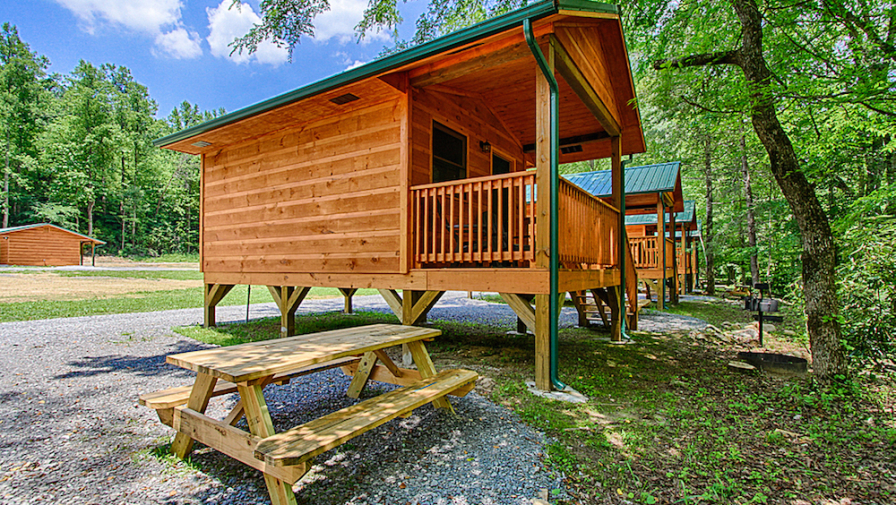 5 Modern Amenities You Will Love at Our Campground in the Smoky Mountains
While our campground offers a wonderful opportunity to enjoy the natural surroundings of the Great Smoky Mountains, this doesn't mean you have to rough it! You may think that when you go camping in the Smokies, you're in the middle of nowhere with no way to access the outside world, which isn't true! Our campground offers the perfect mixture of a traditional camping experience combined with fun and convenient amenities to make your stay as pleasant as possible! Here are 5 modern amenities you will love at our campground in the Smoky Mountains:
1. Laundry Facilities
If you are planning an extended stay of a week or more at our campground in the Smoky Mountains, you will be happy to know that we have convenient laundry facilities just steps away from your campsite! We actually have 2 sets of coin operated laundry machines for your use, as well as sinks and folding tables. For those folks staying with us during the summer months, this is the perfect way to wash your bathing suit after a refreshing dip in our swimming pool! The laundry facilities also come in handy after hiking or working up a sweat on our volleyball court!
2. Free Wireless Internet Access
We know how important it is to stay connected in these days of modern technology, so take advantage of the free wireless internet access at our pavilion! This makes it easy for you to check the latest weather forecast and plan your outdoor activities accordingly! You can also research all the exciting things to do around our campground, including white water rafting, horseback riding, hiking trails, ziplines, and more! Don't forget to send a message to your family and friends back home to let them know how much fun you are having at our campground in the Smoky Mountains!
3. Beautiful Swimming Pool
The most popular area of the Pigeon River Campground in the summer is undoubtedly our 4-foot-deep swimming pool! While your kids are having a blast splashing around in the pool, you can relax on the lounge chairs on the tanning deck! For those who prefer to stay in the shade, there are also plenty of tables and chairs that are covered by umbrellas. You could spend the entire day in our pool area playing card games, swimming laps, and enjoying the sunshine! There is just no better place to be during the summer season at our campground! Need more inspiration for relaxing? Find out the best ways to relax at our campground!
4. Convenient General Store
It can be difficult to remember everything you need to pack for your camping adventure, but don't worry if you forget something! Our campground in the Smoky Mountains features a general store with all the necessities, including camping supplies, snacks, and drinks. We also have everything you need to make s'mores by your campfire at night! This added convenience is just one reason to go camping with us in the Smoky Mountains! If you don't see the items you need on our shelves, there are a couple of grocery stores in the area including D J's Market & Deli and A & M Family Grocery.
5. Outdoor Recreational Activities
When staying at the Pigeon River Campground, you have access to our fun outdoor recreational activities including horseshoes, volleyball and cornhole! Get your family and friends together to organize an exciting volleyball tournament or to see who is the cornhole champion of the group! You might even make some new friends with your fellow campers as you have a blast playing these games. There is nothing like being outside in the fresh mountain air of the Smoky Mountains while enjoying our recreational activities! After a fun-filled day in our campground, watch a beautiful sunset over the mountains and roast marshmallows by the campfire.
Check out all of the amenities at our campground in the Smoky Mountains to see everything that we have to offer during your camping adventure! We can't wait to see you next season!