5 Things to Do Near Our Campsite in the Smoky Mountains
It's never too soon to start planning all the exciting activities you want to do when you come camping in the Smokies. There are so many fun things to do when you stay at our campsite! You can fish in the creek or take advantage of our amenities, but you probably want to explore other places too. Here are some things to do near our campsite in the Smoky Mountains:
1. SMO Rafting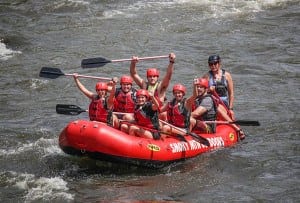 One of the most exciting activities near our campsite in the Smoky Mountains is white water rafting! SMO Rafting is the outpost to go through. From spring to fall, you can take a ride down the Pigeon River. This outpost has lower river trips that are perfect for small children. The upper river trips are exciting with rapids, especially after it rains. This is a great activity for the whole family, and you don't have to be experienced to go on a rafting trip. You'll love this exciting attraction near us!
2. Carver's Orchard & Restaurant
If you're looking for somewhere to eat, then Carver's Orchard and Restaurant is the place you should go. This is a family-owned orchard with over 120 types of apples. While you can't pick your own apples, you can enjoy the view of the 40,000 trees and spend time in the country store and restaurant. The store has bushels of apples, jams, ciders, and so much more. At the restaurant, you can enjoy true southern food, as well as apple specialties you won't want to miss out on!
3. Foothills Parkway
Want to explore the national park near our campsite in the Smoky Mountains? Then you should take a drive on Foothills Parkway. This is a unique road in the Smokies because it has been finished in sections over the last 75 years. The east section of the road is right outside of our campground. You'll pass along the lower section of Stone Mountain and can see incredible mountain views along the drive. It's something that is great for the whole family to do!
4. Smoky Mountain Llama Trek
A unique thing to do near our campsite in the Smoky Mountains is to go hiking with llamas! Smoky Mountain Llama Trek allows you to take a llama out on the trails in the national park. There are several trails you can choose from, but on each one, you get to lead your own llama along the trail. You don't have to lead one if you don't want to, but it makes the hike more fun! Also, you can just visit the llama farm and interact with the animals if you have kids that are too young to hike. Your whole family, especially animal lovers, will love going hiking with these beautiful creatures!
5. Hiking
Another thing to do near our campsite in the Smoky Mountains is to go hiking. You'll love getting out in the national park and exploring. You'll find a hike that is perfect for any preference; there are easy, moderate, and difficult ones, like the Appalachian Trail! You can see a waterfall or beautiful mountain views. There are also hikes that just take you through the woods! Here are some of the best hiking trails that are near our campground.
Want to know what else is fun to do on your trip? Here are the top reasons why you should go ziplining on your next trip to the Smokies!
These are just some of the fun things to do near our campsite in the Smoky Mountains. Are you excited to check out these fun activities? Find out more about our campground, then book your next stay!